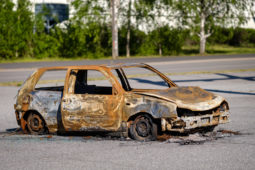 Most, if not all pho­tog­ra­phers are oppor­tunis­tic crea­tures. The sever­i­ty of this con­di­tion heav­i­ly depends on the type of pho­tog­ra­phy they're inter­est­ed in. With some, the oppor­tunism comes and goes dur­ing the years, but oth­ers can be just ter­mi­nal­ly oppor­tunis­tic.
Opportunism scale
Very mild oppor­tunism could man­i­fest itself as a want to take pho­tographs because of beau­ti­ful weath­er or of a type of flower that just hap­pens to be in bloom. More aggres­sive and chron­ic oppor­tunism is usu­al­ly linked to jour­nal­is­tic pho­tog­ra­phy where some­thing news­wor­thy hap­pen­ing or not hap­pen­ing could make or break the sto­ry.
Carpe diem!
This should be a famil­iar Latin phrase, but in case it isn't, it trans­lates to "seize the day". This is def­i­nite­ly good advice in oth­er areas of life besides pho­tog­ra­phy. But in pho­tog­ra­phy, I can think of a spe­cif­ic sit­u­a­tion where this say­ing comes in handy.
Pho­tog­ra­phy for me is a hob­by, a dear hob­by, but a hob­by nonethe­less. The unfor­tu­nate con­se­quence of hav­ing a day job means that I'm not able to go out and shoot as often as I would like. This was the pri­ma­ry rea­son to get the Fuji X-T20 and a few lens­es to go with it. Now I have a good cam­era with me almost every­where I go. So when I saw this love­ly sum­mer car on an aban­doned park­ing lot, I just had to pull over and take a few shots.
Still, I must admit that I don't take the cam­era out of the bag near­ly as often as I should. After ten years of pho­tog­ra­phy, I've become picky when it comes to sub­ject mat­ter. A part of it is the fact that I can "see" or pre­dict the end result in my head even with­out a cam­era. So if the pre­dict­ed end result doesn't look good in my head, I won't even both­er to take the cam­era out.
This abil­i­ty to pre­dict the end result also makes you lazy. Even though by "work­ing" the sub­ject there's most like­ly a decent pho­to in there. So maybe the bot­tom line is that I should seize the day more often.
Stercus accidit
If you're not flu­ent in Latin, this phrase is prob­a­bly not a famil­iar one. I had to google this myself, but appar­ent­ly, it trans­lates to "shit hap­pens". And shit will def­i­nite­ly hap­pen some­times if you don't pho­to­graph a sub­ject when you have the chance.
Pho­tog­ra­phers usu­al­ly have a strong ten­den­cy to val­ue dis­card­ed items, derelict build­ings and in some cas­es a burnt Volk­swa­gen Golf. For some rea­son, cities gen­er­al­ly want to go after these areas and things and clean them. I can't even remem­ber how many times I've dri­ven past some cool place or thing think­ing I'll come back and shoot there at some point. Only to real­ize that there's noth­ing to pho­to­graph any­more.
As an exam­ple I had this hap­pen just this week. I saw a cool sten­cil graf­fi­ti on an elec­tri­cal box a while back but didn't have my cam­era with me at that point. I don't know how many times I've walked past that elec­tri­cal box since. Every time think­ing about pho­tograph­ing that graf­fi­ti. This week I noticed that the "urban art" had been washed away.
If pho­tog­ra­phy has been your hob­by for a while and this sto­ry doesn't seem famil­iar, brace your­self, because shit like this will def­i­nite­ly hap­pen at some point.
Mea culpa
This is anoth­er more famil­iar Latin say­ing, which trans­lates to "through my fault" or "my fault" in some cas­es.
What can you say oth­er than "my fault" when you had the chance to pho­to­graph some­thing but didn't and now it's gone. Some­times oppor­tunism just isn't pos­si­ble due to some restraint like time or weath­er, but in most cas­es, the fault falls onto the pho­tog­ra­ph­er.
Remem­ber that if you don't carpe diem often enough, ster­cus accid­it will occur and you won't be able to blame any­one else and have to say mea cul­pa in the end.
-Janne